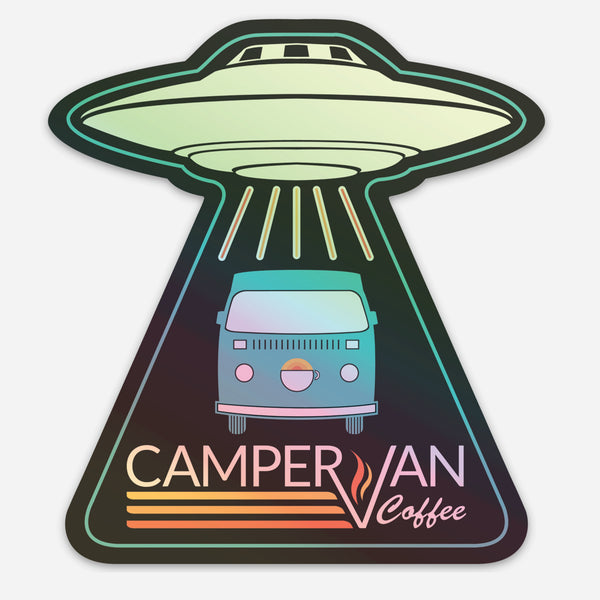 UFO CAMPERVAN COFFEE holographic vinyl sticker 
inspired by UFO ROAST from Brazil
Sticker Size: 3.64 x 3.99 in. 

The UFO coffee story: 'cue x-files music' 

This coffee comes from the Minas Gerais region of Brazil where the famed VARGINHA UFO INCIDENT took place in 1996! Haven't heard of it? It is famous in Brazil and often compared to the UFO incident in Roswell, New Mexico. When the rare opportunity crash landed into our inbox to get our hands on some coffee with some history of extraterrestrial mysteries, we totally jumped on it! The true essence of COFFEE FOR THE CURIOUS ADVENTURER, indeed. 

Not only does this coffee have a story, it is delicious! The producers behind this coffee created something unique, this is not your average Brazilian coffee, but neither is the story behind the Varginha UFO encounter, so lets have some fun with this one! The coffee was fermented anaerobically for 72 hours. After fermentation the coffee was laid in thin layers to be sun-dried and rested for 30 days before dry milling. This process resulted in coffee FULL of vibrant nutty, mocha flavors and intense sweetness. If you have never had anaerobic coffee, this is a must try and you are in for a real treat! After test roasting this coffee as a light, medium and dark roast we realized it absolutely beamed as a medium/dark roast. So in true Campervan Coffee fashion we got to work on creating a fun new label and holographic sticker to portray the mysterious vibes of this Brazilian coffee adventure.

If you want to learn more about the incident that took place in 1996 check out the documentary, Moment of Contact. Residents claim experiencing some really bizarre and unexplainable happenings from the UFO crash. Fellow earthlings, one mystery is definitely solved • • • this coffee is OUT OF THIS WORLD, and we hope you get it into your daily coffee orbit! 

We come in peace! 
Diana
 + Jon